Come to our next meeting on Wednesday, April 8th at 7 p.m.
for another great presentation!
Our April Guest Speaker is Dr. Olivia Petritz, DVM, DACZM
The presentation is titled "Avian emergencies: when to FLY to the E.R."
Presentation summary:
It is very important for every bird owner to be aware of and recognize signs of illness in your bird.
Birds are prey species, and often hide signs of illness until the disease has progressed.
Therefore, all bird owners should know what signs to look for that may require an emergency visit to their veterinarian.
This presentation will review general signs of illness in birds, and also several specific avian emergencies including difficulty breathing, egg binging, heavy metal toxicity, bleeding/fractures, and seizures.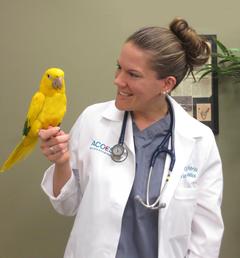 April Guest Speaker Dr. Olivia Petritz
Dr. Olivia Petritz, DVM, DACZM works at
ACCESS, Specialty Animal Hospitals,

Department of Avian and Exotics,

9599 Jefferson Blvd, Culver City, CA 90232
Phone: (310)558-6100. Her bio follows:
Although all American College of Zoological Medicine (ACZM)* Diplomates have the same 'DACZM' title, several years ago ACZM created a sub-specialty that encompasses all exotic pet species such as small mammals, rodents, birds, reptiles, and fish, and gave it the title: 'ZCA' for 'Zoological Companion Animal'. The first person in the world to acquire this unique veterinary qualification resides in Germany. The second was Olivia A. Petritz, DVM, DACZM.
With her degree in veterinary medicine from Purdue University, a three-year ACZM residency at UC Davis in Companion Avian and Exotic Pet Medicine, an internship in small animal medicine and critical care in San Diego, and a specialty internship in avian and exotic animal medicine in Houston, she is a wonderful member of the ACCESS Team.
Olivia sees patients (all exotic family pets, including ferrets, rabbits, small mammals/rodents, hedgehogs, sugar gliders, all avian species, snakes, lizards, chelonians, amphibians, and invertebrates)
Tuesday
through Friday, and is available on call
.
ACCESS Specialty Animal Hospital is a multi-doctor specialty animal hospital, including 24-7 emergency care, that is located within the City of Angels Veterinary Complex in Culver City, CA.
Share our website with a friend by clicking the

green

button:
m
eets monthly at
7:00 PM
on the 2nd Wednesday of the month
5309 Sepulveda Boulevard
Culver City, California

map

Our

mailing

address is

WLABC, 531 Main Street, #133, El Segundo, CA 90245-3006

website updated March 23, 2015