(1940s or 1950s or 1960s until November 30, 2012)
My heart hurts too much to write about him now. I wanted to put his photo on the website though.
I miss him so much every single day, his maple syrup smell, his contagious laughter, his sweet voice and antics.
Buddy misses him so much too. I've never missed anyone the way I miss Mott. He was such a huge personality and such a HUGE LOVE. He is awfully missed in our home.
He'd start whistling or singing to get Dharma to howl; it was so funny! She misses him too, I'm sure.
He was at least my age, possibly much older. He was torn from his flock, captured in the jungle of Brazil and shipped to LAX in the 1960s where he was then ordered to be destroyed because he didn't have the right paperwork. A girl working in that department snuck him out of there, brought him home and gave him to her neighbors. They had him until 2007 when they asked us to take him in because they had to downsize their home.
We loved every single moment with him in our lives. Life in the House Flock will never be the same without Mott.
He was the most pleasant bird, such a patient and gentle soul, and he deserved so much better (to be left with his flock in the wild!) ... He is an angel.
I can only honor his memory by taking care of his best friend, Buddy, in hopes Buddy will be able to bond with another feathered friend in the House Flock. Mott, rest in peace, our big beautiful boy. I love you so much.
(So much for my heart hurting too much to write about him.)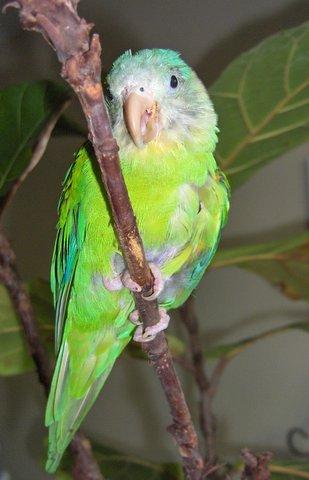 Pat's Indy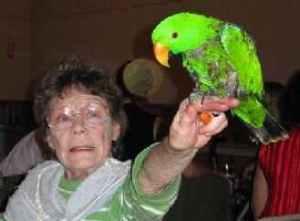 Joyce's Buddy
In Memory of
Samba, My Mitred Conure
by Joni Blank-Malukas
July 10, 2007

Samba, my Mitred Conure, passed over "The Rainbow Bridge" quite suddenly on Wednesday, June 6, 2007. She was the oldest of my three birds. Samba would have been just 16 years old in July. She is survived by Cha-Cha, a Citron Cockatoo, and Tango, a Blue Crown Conure.

In comparison to the other two birds, she was my "toughie," but also very sweet, affectionate, and special in her own way. Samba had gotten me through some rough times when there were only the two of us, just her and me.

She was my very special bird in her own right. The poem below I wrote about her around 2 years ago after watching and playing with her one day.


Samba - My Tyrannosauraus Rex

There is no doubt of the direction,
When it comes to reptiles to birds,
There is a connection.
To see my Conure, Samba, walk then stalk,
To a tyrannosaurus rex,
She is not a hex.
With her long tail like the monster,
She can assume quite a posture.
Now she can be quite a "toughie."
But she also cuddles like a puppy.
Samba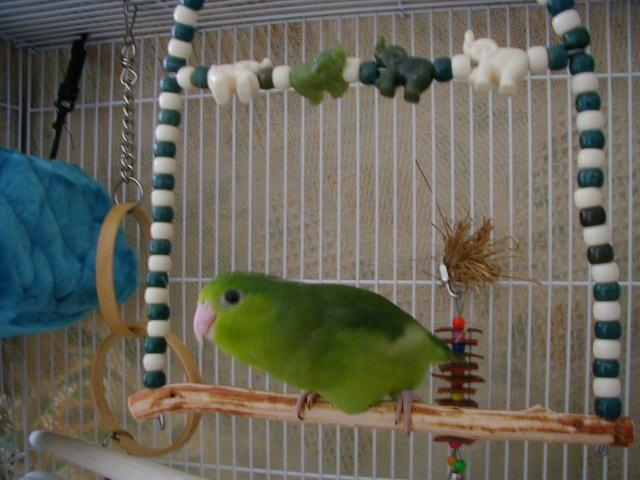 Olive was the 2nd member of The House Flock & Biscuit's best friend. I named her. She was my baby, and she will never be forgotten. There's never been a sweeter bird. I miss her every single day. I'd like to share how we lost her so that it may prevent other birds from being lost in such a manner. I was rushing around in a hurry and swung the bedroom door closed as I quickly passed through and didn't realize she was following me, flying several feet behind me and she was hit by the door. She passed away in my hands within less than a minute. Please don't let this happen to you. Be extra careful, especially when you're in a rush, take extra precautions, or you will live with the pain of having caused something this awful and regret it always.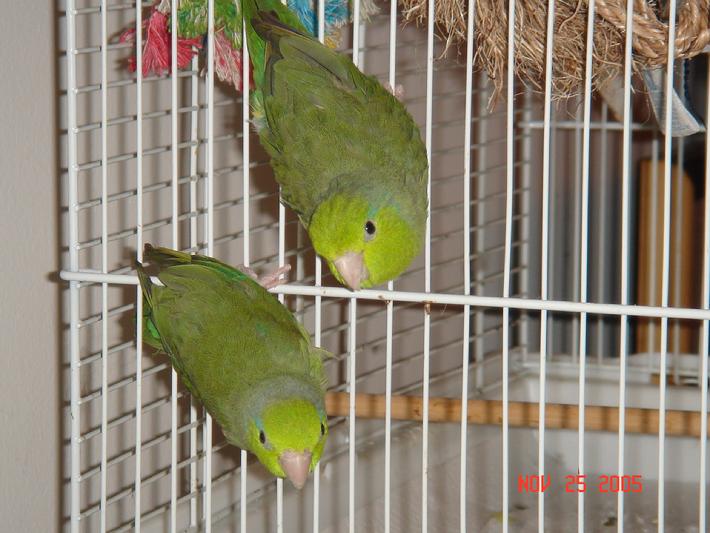 Kiwi (lower left) & Olive (upper right), were the best of friends too. We lost Kiwi in a tragic accident just a few weeks before we lost Olive. Kiwi was the sweetest little rescue from Parrots First. Kiwi would sit on my husband's chest and sing along to "Deep in the Heart of Texas!" We loved her so much and the fact that her loss was our fault will haunt us forever. They are both our angels, always.
m
eets monthly at
7:00 PM
on the 2nd Wednesday of the month
5309 Sepulveda Boulevard
Culver City, California

map

Our

mailing

address is

WLABC, 531 Main Street, #133, El Segundo, CA 90245-3006

website updated October 2, 2015